During unprecedented and tumultuous times there is no such thing as 'simple'. Crisis Management is complex and difficult. Now more than ever before strong leadership is an essential factor in mobilizing and motivating teams while working remotely, still aiming to achieve the business objectives front line leaders are still ultimately responsible for delivering.
Whether working within a team or leading employees, employees are experiencing disorganization, difficulty concentrating, feelings of overwhelm, increased requests for sick time, and increased absenteeism—all of which are normal responses in a crisis. The relevant management and leadership skills take on a different look and feel under these circumstances. I've captured a few leadership actions that I've coached others on and have seen used effectively and are proven best practices by many organizations:
Take care of myself. This is not selfish – put oxygen mask on first before helping others
Allocate time during the day to decompress… take a walk, stretch, meditate .. to digest & eliminate emotions
Exercise (preferably outside) – to keep energy levels up and get fresh air/sunshine
Sleep – 7-8 hours a night
Eat healthy/water – nourish body
Find fun & joyful things to do
Listen. Deeply Listen
Acknowledge what people are feeling with no judgment
If possible, set up standing 30 minute calls with your team once a week -- No agenda; just to allow time to talk, vent, connect. Knowing this time is set up helps provide a reliable venue that they could depend on and set the first part of a "routine"
Also have frequent 1:1 touch-points
Be real, vulnerable, courageous, honest
Use care and candor in discussions, be transparent with frequent updates
Some days you'll need support. Let people support you too.
Provide a "road map"
This one is very tricky. Even though we all know that "this too shall pass" people need to have time to adapt. The road map has to be soft, flexible and allow change yet give people a sense of a future state that they can begin to see that there will be end to this even though it may be a different or new normal
This needs to be clear and credible as well as inspirational to provide hope
Encourage experimentation and learning and adjust the plan with that input. Things are changing at a rapid pace so redirect as you get more information.
Give people a Role and Purpose to help achieve the "road map"
Ask "what can we do now, i.e. remotely?" "What skills and capabilities do we need?" "Who can help"
Consider engaging a "morale team" to set up something every day to keep people connected and engaged, i.e. Workout Wed/Fitness Friday, Share a recipe and cook "together", Mental health tips, Finance info…
This reinforces that everyone is valuable, and their work matters and makes a difference
Set expectations and establish a form of accountability and recognition
Baby steps forward, take the training wheels off
Set dates & flex them if people are having trouble meeting
Recognize people that are experimenting & having some success
Reinforce that "we" will figure this out together #bettertogether
Keep listening – for more than the spoken word
Crisis takes a toll. People are fine one day & then burned out the next. Energy & emotions vary
Many know people that are sick or have died due to the virus, there are financial impacts, etc
As a leader keep your pulse on this and help where you can. Where you can't, offer EAP- Emp Assistance Programs.
Be a role model. Say & do what you ask of others.
Show Gratitude
Stop & be thankful for as many things as possible
You can't be stressed & thankful at the same time
Visualize the future
Remember you and your organization have a purpose
See yourself and your team/organization on the "other-side" fulfilling the business' and the individual and collective purpose of the team.
Trust that everything happens for a reason & expect good things to come out of challenging experiences
Let go of expectations and the need to be perfect – you are worthy and good enough to persevere
Remember we 'manage' tasks yet we 'lead' people. Make it about the people. People will need to talk more (a natural way to deal with tragedy), and the more they talk the healthier the organization becomes. A sense of togetherness embedded with compassion and empathy goes a long way to ensure productivity and performance is stabilized.
For more TLD Group resources for navigating the challenging waters created by the COVID-19 pandemic visit the
---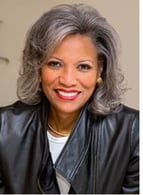 Michele Brown, PCC
As a Certified Emotional Intelligence Specialist for many years, Michele uses her knowledge of emotional intelligence to equip leaders with the insights they need to motivate, engage and support their teams during trying times. She has coached and trained executives and senior managers in the fields of pharmaceutical, biotechnology, media, telecommunications, wealth management, legal, accounting, manufacturing, consumer goods, healthcare and non-profit with organizations across the US, Latin America, Asia, Africa, and Canada. Michele has helped managers' leverage their emotional intelligence not only to escape tricky situations, but also potentially turn them into opportunities.