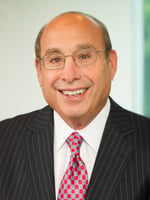 Barry H. Ostrowsky is President and Chief Executive Officer for RWJBarnabas Health, New Jersey's largest not-for-profit integrated health care delivery system and the largest private employer in the state. Mr. Ostrowsky joined Saint Barnabas Medical Center in 1991 as Executive Vice President and General Counsel. He served in the same role at Barnabas Health, when the System was created in 1996. He assumed the title of President and Chief Operating Officer in 2010, and became President and Chief Executive Officer in January 2012. Prior, Mr. Ostrowsky was a Senior Partner in the law firm of Brach Eichler. He received a BA from Rutgers University and a JD from the University of Tennessee School of Law.
Key take-aways:
Any organization-wide effort to enhance the health of the communities served must take into account the community's needs, their own organization's capacity, and what has already been done.

One cannot undervalue the impact social determinants have on the health of communities. As such, all sectors in the health industry need to design their strategies, systems, processes, and talent to include a population health focus.

When organizations commit to new initiatives, it takes time and concerted effort to turn the vision into a reality. Leaders of healthcare must engage their staff, those on the front lines in charge of implementation, by communicating the significance of the initiative on improving health.
TLD Group: What is the biggest challenge you face in meeting the health needs of the communities you serve?
Ostrowsky: From my perspective, healthcare is a social service industry. The problem is that there isn't any business rational for social services. As such, no one wants to pay for it or support it. This led the industry to become very insular, siloed, and limited to clinical care. It's great that we are a provider of healthcare and are able to react when people get sick, but I believe it is time for us to break out of that silo and begin talking to others who have a mission to deal with the social service aspect of taking care of people. There is, in fact, a business motivation to keeping people out of the hospital. We need to keep a certain percentage of the people currently seeking our services healthy to ensure we have enough resources to treat those who are in critical need of our services. In a somewhat defensive way, we want to be able to have a sufficient amount of resources to treat those who get sick or develop conditions, and keep enough people healthy so that they don't deplete these resources. If you look at healthcare in Canadian or European systems, the focus is less about healthcare than the social programs that keep people healthy and out of the traditional healthcare system. If our industry can provide social services to help keep people out of the system, there will be more resources available for those in critical need of our services, thereby leading to better outcomes. That's the direction I believe the healthcare industry in our country ought to be heading.
TLD Group: How has your organization attempted to align the different stakeholders in the health ecosystem to achieve the industry's shared mission of improving population health?
Ostrowsky: The insurance sector is very much at the center of this. Financing healthcare has to be aligned with the delivery of healthcare. If that can't be done, the scalability of our population health efforts is seriously compromised. We have focused on aligning the insurance companies with our ability to seek value from our physicians though a couple of significant initiatives. For example, we have approached our physicians to explain that if they were to modify their clinical behavior to follow a value-based model, we will ensure that the revenue source (i.e. the insurance company) will reward them for that. We are working with an insurance company that has agreed to put up resources to align themselves with physicians. I believe that as younger generations of clinicians come out of their training, they will be more in-tune with a value-based approach to delivering care. For right now, it's about aligning the primary revenue source with the delivery model.
TLD Group: What is your organization's approach to enhancing the health of the communities you serve?
Ostrowsky: Our efforts to enhance the health of the communities we serve is a huge undertaking. To be successful, it's important to learn about your community's needs, your own organization's capacity in terms of resources, and what has already been done. The needs of the community determine the types of social programs we can provide. One size won't fit all. The needs in Newark are different from the needs in New Brunswick. They may be similar in that they are both vulnerable communities, but the same programs won't serve the needs of both. We can't tackle all the communities' needs at once – it's just not possible. We had to realize that a) there's not going to be an immediate return-on-investment as we conventionally describe it to our business people, b) it's going to take generations to see a true impact, and c) we need people with the patience, metabolism, and motivation to drive this important initiative. When we laid this out to the board, we had unanimous support and enthusiasm, and our management team embraced it. We've begun a couple of initiatives.
As an organization, we sat down and discussed what it would take, managerially, for us to accomplish this. We appointed an executive vice president to develop our social impact investment strategy, which collected information about the social determinants of health, analyzed our communities, listed the top social determinants, and developed potential project ideas. She spoke to people from around the country to compile best practices models for addressing our key social determinants, and to learn from their successes, shortcomings, potential derailers, scalability, etc.
TLD Group: Can you provide an example of a collaborative initiative you have led to address the social determinants of health?
Ostrowsky: In vulnerable communities, employment is the #1 social determinant of health. If you don't have a job, you don't have money, and you can't afford all the things you need including healthy foods and wellness support. As a result, you're unfortunately more likely to develop poor health habits. We began a program called "Hire Newark" which is essentially an employment boot camp. Each class has twelve people, and these folks agreed to effectively be schooled in everything from how to dress, how to succeed in an interview, how to write and speak in the business environment, etc. The unique aspect of this program is that it guaranteed a job after finishing the 8- to 10-week program. We just graduated our third class, and of the 36 graduates, four of them have already been promoted from their entry-level positions. It's not just our organization – a number of other anchor organizations in Newark agreed to employ these graduates as well. What this proves to us is that, even though it's a small project, it can be done. We can make a difference in the lives of people who would otherwise have been chronically unemployed and, as a result, be more likely to have health-related problems. This program has been a great success.
TLD Group: Has your organization engaged other stakeholders to drive collaborative solutions to addressing population health?
Ostrowsky: At the same time as we were developing our "Hire Newark" program, the mayor informed me of his vision called "Newark 2020." The objective of his vision was to increase economic development by the year 2020 in the hiring of 2,020 unemployed Newark residents, and enlisting the participation of the significant organizations in the city, both for-profit and not-for-profit. Not only did I volunteer my organization to be part of his vision, but I also took on the leadership development role of contacting the CEO's of other major organizations in Newark and enlisted buy-in from PSE&G, Prudential, Horizon Blue Cross, and other organizations that have long been committed to the welfare of Newark. I invited these organizations to the table and said that we want to expand our mission through collaboration, because we think we can lead a better approach to improving the lives of the people in our community by working together. I'm happy to say that it's resonated, because they, too, had a pre-existing disposition towards helping the city. The mayor's vision simply gave us all an effective vehicle to do so, and we are beginning to see real activity along those lines.
TLD Group: What was the biggest obstacle you or the other organizations faced in implementing this vision?
Ostrowsky: In big companies, even if the CEO commits to a vision, that doesn't necessarily mean that others in the organization will buy-in and execute immediately – it takes time for all the pieces to come into place. Any time you want to roll out a new initiative, you need to meet with your executive team, explain its significance, and make sure the folks who manage the functions that are going to be affected begin to manage that function in a way that's consistent with the vision. Of course, there's always a delay between the development of the vision and execution because you have to make sure the folks who have their hands on the controls begin to actually use those controls to attain the goals set by the vision. For example, when it comes to unemployment, we need to ensure that people are well-trained to fill the vacancies in our organization. In a big organization with sophisticated HR functions, they don't turn on a dime. You have to make sure the functional head of those activities understands the mission and how it's going to be executed. To do this, I've made it known in our organizations that compensation will rely in part on the success of the initiative. That is how I have attempted to motivate people to take steps to operate in ways that support and advance the vision.
Another obstacle is that one size does not fit all. The goal may be the same among the various organizations within the city, but the specific success of the program may manifest differently depending on the organization's context. We can look for common ground in standardizing the process, but if you spend too much time trying to figure out a program that fits everybody, you end up with the lowest common denominator and not a lot of progress. The goals can be agreed upon, but the actual tactical implementation process has to be flexible enough to allow each of the organizations to do it in a way that's more productive for them. For example, publicly-traded companies such as PSE&G and Prudential have other oversight with respect shareholder interest. When they pledge to hire unemployed Newarkers, they need to keep in mind shareholder interest with regard to how it's going to impact the success of the company and what it's going to mean to the value of their stock. These specific organizational contexts need to be taken into consideration when you volunteer for an initiative such as this.
TLD Group: What are some challenges your organization has faced in trying to develop collaborative solutions?
Ostrowsky: There's one pool of collaborators I work with that's made up of a dozen or so small, community-focused, not-for-profit organizations. My biggest hurdle when I had begun working with them was building trust to convince them that it was not our intention to lead the social determinants efforts by displacing them, taking them over, or stealing the credit. There is another pool of corporate collaborators which are the big investor-owned companies, and the ego of the company is clear. In this case, the biggest challenge was overcoming corporate ego and getting together person-to-person to discuss the issues and solutions we can achieve together.
Another challenge of collaborative solutions is that the pace of this work is incredibly slow. I recently spoke to an organization that was trying to bring together six CEO's to sit around the table to talk about what I consider to be an important issue. After three months of trying to schedule the meeting, the organization decided to work individually with each CEO. It's unseemly to me to hold back progress simply because we haven't been able to get a sufficient amount of attendance of a collaborative. I love collaboration, and I'll speak to anybody to try to develop solutions to shared problems, but I don't want to wait 18 months for the next meeting of the collaborative to move things along. We all have to rally with a sense of urgency.