At The Leadership Development Group (TLD Group) we believe workplaces, especially those in the health ecosystem, have entered a pivotal moment in time. COVID-19 has further heightened challenges around employee mental health and well-being in workplaces. Intrigued by the topic, we enlisted the help of expert Z. Colette Edwards, MD, MBA, Humana's National Medical Director, Associate Health and Well-Being.
In this blog, Colette shares her insights for leaders looking to open the door to more conversations around stress and mental health within their organizations.
Tell us a little about yourself, who you are, what you do, and what you're passionate about?
I am a gastroenterologist and an author who is Humana's National Medical Director, Associate Health and Well-Being. In my role, I lead a portfolio of initiatives focused on the safety, health, and well-being of Humana associates (employees). I am passionate about self-empowerment, self-advocacy, and health equity relative to health and well-being and navigation of the healthcare system.

How does your work connect with mental health?
Emotional/mental health and well-being are inextricably intertwined with physical health because everything is connected. For example, if you are depressed and suffer a heart attack you are at greater risk of a second heart attack compared to someone similar to you who was not depressed at the time of his/her MI. Another example would be if you are depressed, you are less likely to be engaged in actions, like healthy eating and physical activity, which reduce the risk of developing health conditions like diabetes and cancer.
It's also important to recognize and then truly internalize that one's mental health is no different than physical health. Most people would seek care for diabetes and blood sugar of 500. Depression, bipolar disorder, burnout, and anxiety, to name a few, deserve the same degree of attention and concern and devoid of stigma.
And what originally drew you to this as a career path?
My brain seems to be wired to connect the dots. As a gastroenterologist and someone certified in health and wellness coaching, I could see up close the impact of emotional distress on GI symptoms, as well as the exacerbation thereof, in patients experiencing emotional distress and the very significant impact a state of chronic stress can have on the body, mind, and spirit. Emotional distress is a signal there is an issue that is in need of attention just as much as abdominal pain or a change in bowel habits.

From your perspective, how has the COVID-19 pandemic shifted conversations around mental health in the workplace? What implications do you believe this has for leaders and organizations looking forward?
Because COVID-19 has resulted in literally global emotional distress, I believe there has been further destigmatization of mental health issues. We have been reminded in a dramatic way that grief and mourning, stress and anxiety, and loneliness, depression, and suicide spare no group, culture, or country. Additionally, since the COVID-19 virus respects no cellular borders, it can have an impact on the brain, which can result in anxiety and mood disorders.
In general, studies seem to indicate a greater willingness in the U.S. for individuals to both recognize and honor their feelings and to seek help for emotional stressors and mental health conditions. For example, telehealth for emotional health support has skyrocketed and settled out at a higher level of utilization than telemedicine focused on physical health.

Additionally, COVID-19 has laid bare in a way that has made it more difficult for more people to ignore the health disparities which have existed for decades as well as the impact bias (both implicit and explicit) and systemic racism have on health and well-being in all settings, including the workplace. And because COVID-19 has made clear we are all connected, these disparities and impacts affect everyone, not just those who bear the greatest burden.

What recommendations do you have for leaders looking to encourage conversations about stress and mental health within their teams and workplaces?

1. Seeking help is a strength not a weakness. Help ensure associates are aware of the benefits and resources that are available to them to support their emotional and mental health and well-being.
2. Be authentic, trustworthy, and compassionate. If you are approachable, others will feel comfortable enough to share their challenges.
3. Offer a forum for open, honest discussion followed by concrete actions to leverage the insights and opportunities which are identified.
4. We know that bearing witness can result in trauma and trigger emotions that can be difficult to process. Ironically, the devastating and often daily incidents of mass shootings, attacks against certain racial and ethnic groups, and social injustice provide an opportunity to discuss not just the specific incident at hand but also the emotional and mental health impacts on not just the victims and their loved ones but also society as a whole.
5. Provide opportunities for associates to achieve a sense of belonging.
Many companies have employee resource groups which foster relationships and bonding around a common cause or area of focus.

Volunteering as a team activity is another pathway that provides not only the benefits that accrue to those being helped and to the individual who volunteers but allows for a way for a team to take a time out and destress by stepping outside of themselves.




6. Action not just words. Demonstrate active listening and ensure everyone has an opportunity to speak and offer his or her talents in an equitable way. Feeling invisible, left out, and unappreciated is emotionally devastating and results in chronic stress (and the multiple negative physical and mental health repercussions which follow).
7. Model self-care and consider incorporating some stress-relieving techniques into the flow of the team:
short meditation or breathing exercise to help everyone get grounded and become fully present at the start of meetings

shorten 60-minute meetings to 50 – 55 minutes (and 30-minute meetings to 25) to enable a break between back-to-back calls

consider instituting no-meetings days
"Anything that's human is mentionable, and anything that is mentionable can be more manageable. When we can talk about our feelings, they become less overwhelming, less upsetting, and less scary."
~ Fred Rogers
---
Recommended Resources
---
About Z. Colette Edwards, MD, MBA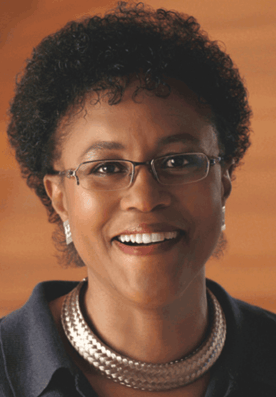 Z. Colette Edwards, MD MBA is the National Medical Director, Associate Health and Well-Being. She provides clinical and operational leadership to optimize the health and well-being of Humana's 50,000 associates. She designs a holistic strategy based on data-driven, actionable insights regarding benefits, care management, and well-being action plans. Colette creates and implements innovative programming focused on health and well-being outcomes and the associate experience.
With the arrival of COVID-19, Colette is the clinical lead for Humana's associate population related to the development of policies, workflows, associate education, testing, return-to-work protocols, benefit enhancements, and associate experiences such as COVID-19 messaging, mindfulness, and learning new coping skills and ways to build greater resilience.

She is the founder and CEO of Insight MD, a healthcare consultancy (which advises start-ups, offers program design and implementation, targeted strategic planning and development, innovative product design, consultative data and clinical ROI analysis including benefit design and large claims analysis, health disparities/health literacy/cultural competency consultation), and PeopleTweaker, a health, well-being, and executive/life coaching practice, as well as training in health coaching techniques for health professionals and support staff.

She is the former Vice President and Senior Market Medical Executive, MidAtlantic, and the National Medical Executive for Health Disparities for CIGNA HealthCare. Prior to joining CIGNA, she was a Senior Medical Director at Oxford Health Plans. She began her career as a practicing gastroenterologist and Associate Medical Director for Patuxent Medical Group/Columbia Medical Plan, entities affiliated with CareFirst Blue Cross Blue Shield.
Dr. Edwards is a gastroenterologist and received a BA from Harvard University, an MD from the Perelman School of Medicine at the University of Pennsylvania, and an MBA from the Wharton School. She completed her GI fellowship at the University of California, San Francisco, has a graduate certificate in health and wellness coaching from the Maryland University of Integrative Health (formerly Tai Sophia), and is a graduate of the NIH Scholar Program in Translational Health Disparities.
Colette is the Managing Editor for the Wharton Healthcare Quarterly, has written a McGraw-Hill GI text, is the author of Be Less Stressed, is a contributing writer to Thrive Global, and provides COVID-19 updates and resources as part of the Harvard Alumni/ae Community Helps initiative.
Finally, Dr. Edwards is on the Board of Bread for the City and is a member of the Advisory Board of T1D Exchange.